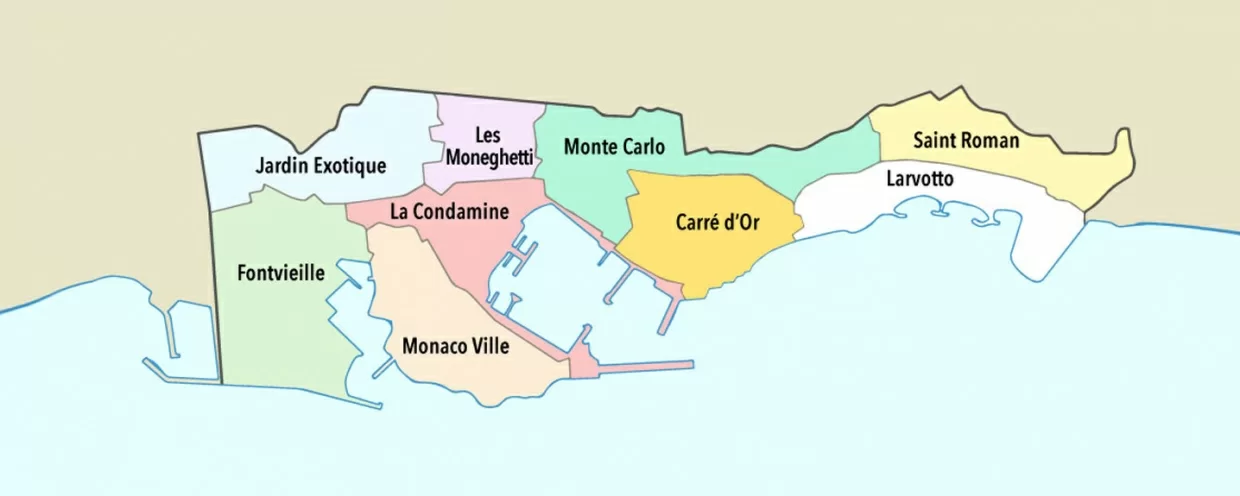 Monte-Carlo/ Golden square
This district is definitely most famous for its sparkling Monte-Carlo Casino and the national opera of Monaco on the famous square which every day brings thousands of luxurious sports cars and hundreds of beautiful people from around the world. The most renowned part of Monte-Carlo is the Golden Square (Carré d'Or), which is known for its exquisite hotels Hôtel de Paris, Hermitage, Métropole, and Fairmont
Monaco-Ville
Monaco-ville is the oldest district of the Principality of Monaco, where the Prince's Palace, the main Cathedral and the famous Oceanographic Museum are located. The old town is located on a rock, where in the 13th century a fortress was built, and then a fortified city. The fortress passed into the possession of the Genoese family Grimaldi in 1297 and eventually acquired the appearance of today's Princely Palace in Monaco, the official residence of Prince albert II.
Larvotto
On the Eastern coast of the Principality of Monaco is Larvotto, which appeared in the 1960s and includes only 40 buildings. It is in this area are the famous beaches of Monaco, the club Sporting, which organizes concerts of world celebrities, night club Jymmiz, Congress center Grimaldi Forum and Japanese garden. And in the famous Monte Carlo Country Club with tennis courts, tournaments such as Rolex Masters and ATP Tennis Tournament.

Fontvieille
Fontvieille is the main part of the district owes its existence to the area, "reclaimed from the sea." It is an artificially created area of the Principality, which is located on the West coast. Today, the population is about 4 thousand people (about 10% of the total population of the Principality). Here is located the Stade Louis II, the new port de Fontvieille HeliPort, with several helipads.
Jardin Exotique
Moneghetti / Exotic garden area on the North Central border of Monaco, which is centered around the picturesque Botanical gardens. The area is close to the French town of Beausoleil and cap d'ail. The Princesse-Grace Central hospital at the top and the train station at the bottom of the district make the area more affordable to buy real estate, although it has recently become more attractive to purchase real estate.
La Condamine
To the South of the area of Monte-Carlo is La Condamine. The district of La Condamine includes the port of Hercules, where the world famous Monaco Yacht Show takes place, and in summer there is the Luna Park, the famous market in Place d'arme square in the open air, with arches that protect from the sun. This area is very lively and has a high concentration of shops and restaurants serving local cuisine.


La Rousse – Saint Romain
The Larus area is located in the North-Eastern part of the Principality of Monaco, from Place des Moulins to Monte Carlo Country Club, North of the beaches in the Larvotto area. This is the second most popular area among foreign buyers of real estate. The new highest building in the Principality-the Odeon Tour skyscraper-adds to the attractiveness of the district. Prices at the Tour Odeon are around €60 million - €80 million.